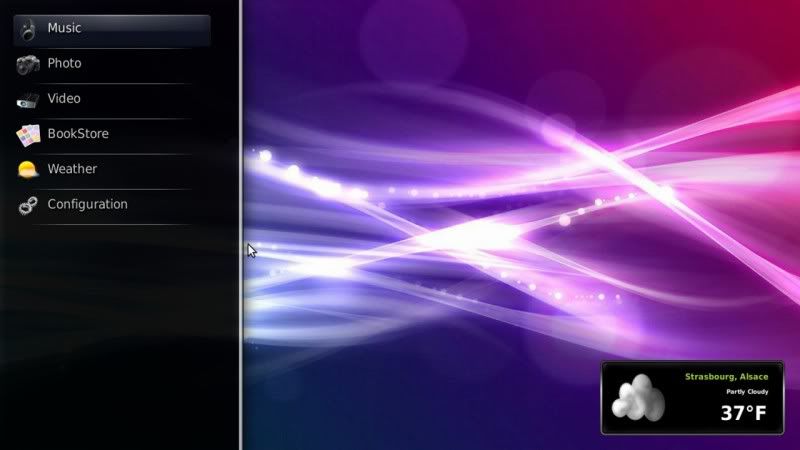 Enna is a Media Center application. Featuring a simple user interface, Enna is based on the powerful Enlightenment Foundations Libraries (EFL) as for its graphical user interface and GeeXboX libraries as for multimedia playback and information retrieval.
Intinya, enna adalah solusi aplikasi untuk membuka file multimedia seperti musik, video, photo, televisi(streaming web dan satelit) dan lain-lain.
Screenshot:
http://enna.geexbox.org/screenshots.html
---------------------------------------------------------------------------
Download: (Khusus Ubuntu Karmic Koala)
1. Buat yang males buka-buka terminal:
Buka Synaptic dan masukan string ini dibagian software source : deb
http://packages.geexbox.org/
karmic main. update/refres. Lalu cari enna dan install berikut dependancies-nya.
Setelah selesai, ena bisa dibuka di bagian Sound and Video
2. Buat yang mousenya rusak jadi harus pake terminal:
sudo nano /etc/apt/sources.list
lalu masukan string ini => deb
http://packages.geexbox.org/
karmic main
Save.
lalu => sudo aptitude update
sudo aptitude install enna
setelah proses instalasi selesai, ena bisa dibuka dengan perintah "enna"
==> ukuran download sekitar 15mb. Butuh tempat di hardisk sekitar 35mb.
Konfigurasi:
file konfigurasi bisa dilihat di [home]/.enna/enna.cfg
Beberapa settingan penting bisa dirubah disini seperti:
- File Extension (untuk musik, video, dan photos). Hanya yang disebutkan di file konfigurasi tersebut yang akan dibuka oleh enna.
- Graphic rendering engine: X11, OpenGL, Framebuffer ...
- Mediaplayer setting: Program yang digunakan, output vido dan audio...
- Path/link ke sumber multimedia, untuk membuat shortcut.
- Media Database: link-link untuk kontent media secara online.
- dan lain-lain.
-------------------------------------------------------------------------
Sebagai, media center... rasanya tidak lengkap kalo tidak ada remote dong... hehehhe
Untuk Enna... bisa menggunakan remote yang kompatibel dengan LIRC. Untuk melihat device yg mana saja yang didukung, bisa dilihat di
http://lirc.sourceforge.net/remotes/
Contoh settingan filenya bisa dilihat disini
http://hg.geexbox.org/geexbox/file/9506 ... tiusb#l358
dan LIRC keynamenya bisa dilihat disini
http://hg.geexbox.org/enna/file/35d6ab8 ... lirc.c#l60